In the initial aftermath of the series of earthquakes that devastated Nepal, the need for immediate relief for rural parts of Nepal was evident, but the government and international organizations focused on providing immediate relief for Kathmandu. Sustainable Steps Nepal recognized the lack of support for the rural areas, and took action to aid the rural villages in Langtang Valley.
From May 7 to May 14, 2015, Sustainable Steps Nepal focused exclusively on delivering supplies and food to areas of Langtang Valley that were hard to access due to blocked roads from landslides and rough terrain.
On the first day, we distributed tickets to the village of Goljung to be later redeemed for food at another village, Syabrubesi. People were provided noodles, biscuits, and rice. Situated close to other small villages, Syabrubesi soon became the meeting place for people to visit for food and supplies.
We purchased rice, salt, oil and lentils from Kathmandu and sent them to rural villages in a rented truck. The districts of Dolakha, and Sindulpawchok both had one village that benefited from our distribution, while the Nuwakot district had six villages that received our aid. A total of $6,000 was used to aid the immediate relief to these rural villages that were most severely affected by the earthquake.
Government aid finally started happening, along with relief efforts from major NGOs such as the World Food Program and Chilime Hydroproject, two weeks after the earthquake, thanks to a lot of awareness raised through social media about these rural villages. Since immediate relief efforts were already being taken care of at this point, Sustainable Steps Nepal and the other small groups providing relief in these areas decided to switch focus from short-term immediate relief efforts to long-term aid.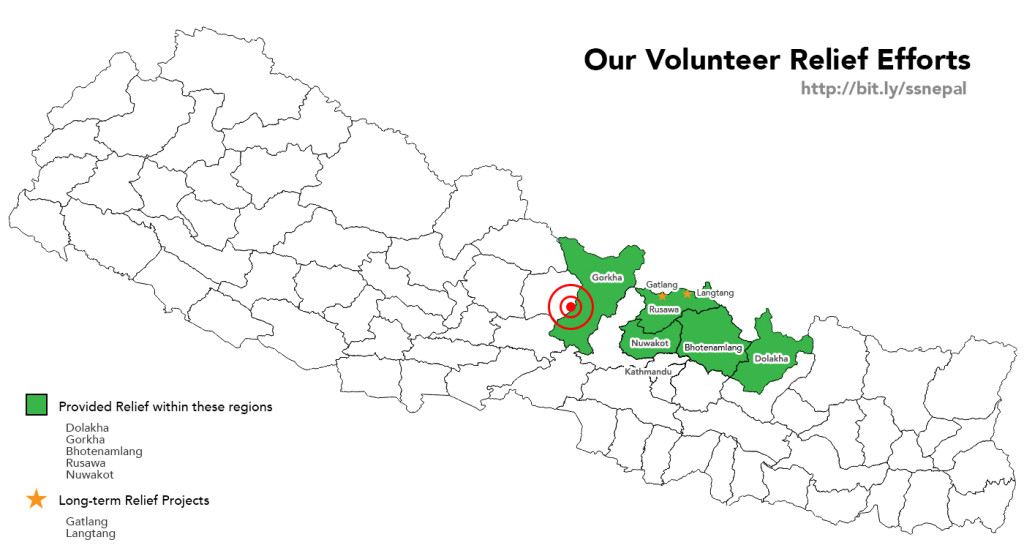 Start Date
May 7th, 2015
Completed on
May 14th, 2015
Actual Cost
$6,000 CAD ($4,800 USD)
Regions helped
Goljung
Dolakha
Sindulpawchok
Nuwakot
Contact
Gayaanan Jeyanathan
Canada: +1 6478332255