We are happy to announce that Sustainable Steps Nepal, together with Langtang Disaster Relief Fund, will be involved in a very special new project. The women of Langtang will be collaborating on an entrepreneurial venture to knit products that will be sold around the world. As part of a collective, they will knit items such as headbands, toques, mittens and scarves.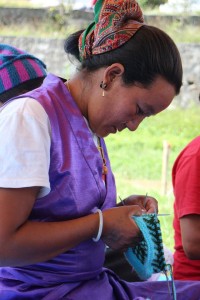 SSN will be selling these pieces for donations through our website and fundraising campaigns. All donations will go towards aid relief for vulnerable rural communities. Visit our website for more information on our projects so you can see what your donations have been funding so far.
The women have been looking forward to working on this project since its inception. In preparation for knitting pieces of high quality, they have been taking the initiative to update their skills by learning advanced techniques. They have been knitting for a few weeks now, and the first shipment will be ready soon.
SSN is proud and honoured to support these resilient women, who have lost so much, but are still courageously moving forward in their grief, taking action to create brighter futures for themselves and their community. It is inspiring to see the joy and renewed purpose on their faces as they sit in a circle and create these meticulously handcrafted items together in beautiful, vibrant colours.
SSN supports this special project for multiple important reasons. It empowers women to stand up and stand out, using their talents and skills to generate income for themselves. It promotes equality by improving the social position of women as major income earners. It also facilitates financial independence and self-sufficiency, decreasing reliance on external aid. Women are put in a position to thrive, rather than simply survive – a precedent that may provide inspiration for future generations. A growth mindset is encouraged as well, demonstrating that you can achieve anything, even in the most trying circumstances, if you are willing and brave enough to put in the effort to make changes and achieve results.
We'd like express our gratitude to our dedicated volunteers who have been spearheading this project (Pasang from Langtang Disaster Relief Fund) and taking action on the ground to ensure its success (Amit, Lily x2, Eliza and Dechen).
Stay tuned for more updates, and be sure to show your support for these amazing women!
Start Date
June 19th, 2015
Status
Ongoing
Women Participating
48
Contact
Amit Shapira
Nepal: 9803948074
Pasang Bhutti
Spain: 34 640 051 076